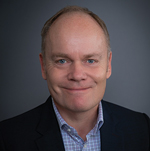 By Alain Fairise
Small to medium-sized businesses are under extreme pressure to consistently deliver a satisfying customer experience that meets or exceeds rising customer demands. The work landscape has changed significantly in recent years. This fact coupled with economic hurdles and a growing competitive environment has challenged many SMBs to find ways to increase productivity while saving costs.
One way to achieve these goals is by improving essential business processes. Mail management is one area SMBs can optimize using the technology and innovative solutions available today, which are not only cost-effective but also easily accessible. Different strategies may be applied depending on how your organization is structured and your available resources.
Gartner states, "the ability to affect ongoing process optimization will become a differentiator for client and provider alike, increasing the speed of response to change and providing the organizational agility required."
Insourcing, outsourcing or both
It is up to each organization to evaluate what type of investment will yield the most business impact. Whether you choose to insource or outsource your mailing needs largely depends on:
Mail volume (Ranging anywhere from 1,000 – 10,000 pieces a month for most SMBs)
Mail type
Level of standardization required
Outbound delivery channels (print, digital or both)
Insourcing Mailing Operations
Accurate, timely, personalized, and low-cost mail production is the foundation of effective and efficient customer communications. If your business handles complex jobs, each with its own customized needs, for example marketing materials, or other transactional documents, a dedicated in-house solution is preferable. Insourcing gives you more hands-on control and insight into your processes, which you can achieve by taking advantage of the following modern mailroom technologies: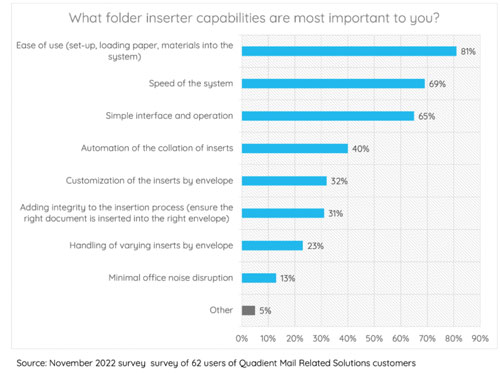 Intelligent document processing
Folder inserters speed up the mail production process. The addition of automation software creates intelligent bar codes on each document that instruct the inserter to group, sort, collate and process documents based on your pre-defined business rules. This allows the user to incorporate personalized offers or inserts intended for the same customer into one envelope and transforms ordinary mail into high-impact and actionable communications.
Folder inserters may also be upgraded with closed-loop verification software to ensure the right documents go to the intended customer. This solution adds an extra layer of security by recording and monitoring the insertion process at every step and alerting the user if any item was not fed correctly.
The combination of hardware and software carries a host of benefits. In 2022, Quadient asked customers to describe which features they found to be the most valuable:
Intelligent Mail Metering
From reducing trips to the post office to tracking and reporting capabilities, mail meters have come a long way.  Advanced mailing systems give customers access to multiple postal rates and services, automatic rate change updates, increased security, postage spending accuracy and reduced ink usage. Mail and parcel processing also may be combined within your mailing system to enable multi-carrier shipping, offering the ability to rate shop all in one place.  In fact, in some countries, like the US and the UK, the postal service is mandating that all mail meters meet specific indicia requirements after a certain date and will not accept mail processed on non-compliant meters.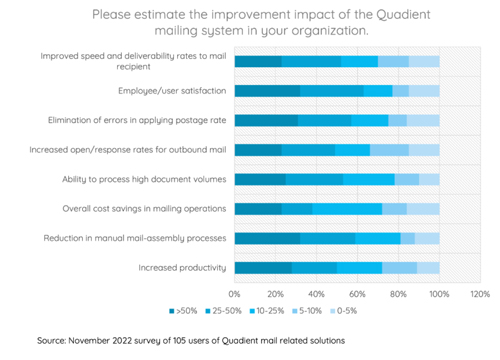 Modern mailing systems also deliver a long list of benefits as observed in a recent survey:
Data cleansing enrichment
Maintaining complete and current customer data with accurate addresses that improve mail and package deliverability is of utmost importance. For example, if 15 percent of an organization's mail is returned as undeliverable, this leads to multiple issues from delayed cash flow to lost marketing opportunities.
Quality is key to making sure that mail pieces get to the right people in a timely and accurate manner and the audience reads them and takes some level of action. Returned mail can cost businesses up to $25 per returned item, which includes the additional effort required to correct the mistake and resend the item. According to the United States Postal Service, the total cost to forward, return, and in most cases dispose of these undeliverable pieces exceeded $1.38 billion in 2021. That cost is not just absorbed by the USPS, but instead is passed through to the mailing industry in the form of postage increases, which now continue to occur twice annually in July and January.
Outsourcing mail operations
Certain organizations can benefit from outsourcing mail when they simply do not have the capital, technical knowledge, or space to manage and maintain a mail center internally. Outside mailing facilities invest in high-speed equipment and stay current on emerging mail technology. Organizations that outsource mail should ensure the facility meets strict data security requirements and protocols.
Additionally, if you send large volumes of mail that are common from one job to another or if your business has a one-time event type of occurrence, such as sending a letter to all your customers or a mass mailing to prospects then outsourcing makes sense. When it's the same communication and the only level of customization is the address, this is a typical example of when you will get the most benefit from outsourcing.
Outsourcing mail offers your business a great amount of flexibility. Your outsourced jobs can still be created, designed and managed internally using cloud-based platforms while the tedious task of mail prep and production is handled externally. SMBs by nature are staffed with leaner teams. Outsourcing mail gives you the opportunity to increase productivity by eliminating manual mailing processes and reallocating staff to higher-value tasks. If you have staff that works remotely, a cloud-based platform can be accessed from anywhere with an internet connection. The platform also enables you to designate print and digital delivery channels.
Adapt and evolve to stay ahead
After evaluating what strategy is right for your business, you may opt for a combination of solutions. Many SMBs prefer to keep certain communications in-house and outsource larger jobs. If you have peaks and valleys in your mail production, this allows you to not only leverage outside expertise but take advantage of postal discounts.
Consult with a mailing expert
Before investing in shipping and mailing solutions, be sure to consult with an expert who can help tailor the solutions to best fit the needs of your business now and to have the capacity for expanded features and modules as your business grows. Quadient, for example, offers integrated, scalable, hardware and software solutions that help optimize customer communications and improve business processes. Quadient intelligent mailing and shipping solutions have been proven to reduce mail processing time and increase customer satisfaction by greater than 75 percent. The company is driving intelligence and digital processing technology into its mailroom solutions, providing SMBs with value-add capabilities that extend well beyond the processing of printed mail.
Alain Fairise is Chief Solution Officer, Mail Related Solutions for Quadient, a leader in helping businesses transform their customer experience by creating meaningful connections through digital and physical channels.