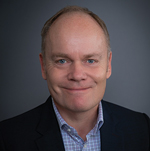 By Alain Fairise
As communication channels increase and more customers transition to digital communications, high volume print mailers must adapt their operation to accommodate their customers' unique and rapidly changing needs. To create new business opportunities, they need to be able to produce more communications across multiple channels. Many of today's high volume mailers have to juggle more jobs with shorter print-runs, increased levels of customization, and higher degrees of complexity.
Maximize output while minimizing downtime
Time is money. For businesses that operate on a tight margin, every minute counts. You want your machines humming with activity, because idle printing equipment equals lost revenue. There are steps to transform your business to meet current and future needs. Organizations equipped with integrated and intelligent document handling hardware and automation software are able to:
Process multiple jobs simultaneously with one operator
Reduce job changeover time from hours to seconds without using tools
Pull complex data to create highly personalized batch communications
Ensure document integrity and security
Decrease postage spend
Save time and money by reducing undeliverable mail
Access remote diagnostics and online support
What does a post-transformation mail center look like?
A modern, ideal mail center utilizes a combination of mailing hardware and software to deliver a highly personalized, multi-channel experience. It is equipped with solutions to handle a wide variety of jobs with incredible speed and accuracy without sacrificing document quality and integrity. State-of-the-art folder inserters handle flats, different-sized envelopes, and even booklets at the same time. Folding, pack size, and envelope adjustments are made automatically whenever a job is chosen. Simple user controls ensures that set-up time is reduced to seconds rather than hours, which significantly reduces the need for a dedicated operator and on-site support. New machines have built-in wireless and LAN-embedded network connectivity, which enables remote diagnostics, remote assistance, and access to usage data.
One folder inserter for multiple applications
Historically, in-house mailers have relied on very large and loud folder inserters to provide for the most economical processing of high volume mail jobs. As their customers have moved toward online portals and on-demand digital communications, providers are taking on a variety of smaller and more targeted jobs. To support a broader set of requirements a platform that can be leveraged across multiple applications is key, as opposed to a hardware solution that is dedicated to a specific role.
It's important to have a machine that offers the flexibility to address a wide variety of job options to help easily manage multiple short and large runs. Look for mailing processing hardware with a modular design and scalable features. A modular design means that you can configure the solution to fit your business requirements and expand features and modules as needed.
The RNB Group is a direct mail and print specialist providing print and mailing services to hundreds of organizations across a range of industries in the UK. Similarly, due to evolving customer communication channels, RNB Group needed the flexibility to scale up or down to meet changing volume demands, and to take on work for clients who suddenly had staff working remotely. For some clients, this meant switching to digital channels, for others it meant they needed help issuing their print communications. With an upgraded suite of mailing solutions, RNB Group is now able to absorb new requirements, often at short notice as well as process high-volume, batch mailings and tailored communications fulfilled through digital and print channels.
"A 10,000 page-print run, which used to be a three-stage job involving three machines and taking 3.5 hours to complete, now takes a single machine one hour to complete" explains Ryan Metcalf, Managing Director, RNB Group. "This makes for a leaner operation, with other equipment freed-up for jobs that need it."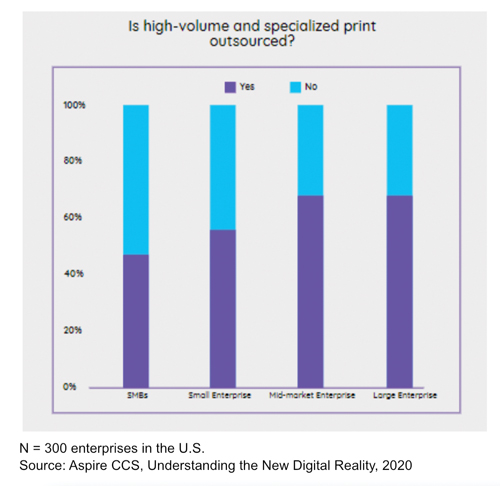 More opportunities for outsourced jobs
Many enterprises large and small are doing away with internal mail management and are outsourcing over half of specialized mailings. With company footprints shrinking due to hybrid work situations and other cost savings initiatives this open up opportunities for existing high volume mail service providers for incremental business.
In the words of senior CX executive at a UK insurance firm, "Although our intention is to only temporarily outsource e-delivery, with the intent to bring back in-house in 2 or 3 years, after a while other projects are prioritized. So, if a relationship is going well, it may remain outsourced." According to another study by Keypoint Intelligence, of firms who chose to outsource mailings and were satisfied with their provider, 75 percent said they were unlikely to take this task back in house.
Ensure document security and integrity with closed-loop verification
It is more important than ever for high volume mailing services to deliver communications that are not only impactful, but also secure and compliant. A closed-loop verification system that enables complete end-to-end tracking of documents. This software works with the folder inserter, calibrates the first document fed, and checks each subsequent document to ensure there are no missed or double feeds. Documents are monitored and recorded at each stage of the folding and inserting process. Closed-loop verification process provides an audit trail to prove the right communications go to the right envelope and thus the right recipient each time.
Cut down on undeliverable mail
What is the point of compelling, targeted compliant customer communications if they never reach their intended destination? Undeliverable mail means wasted postage, stock plus additional cost of time and labor to recreate the pieces. Seventeen percent of Americans (40+ million people) change their residence and nearly 20 percent of all businesses change locations every year. As a result, address databases can deteriorate at a rate of 15 percent annually.
Imagine if 15 percent of an organization's invoices were being returned as undeliverable? This would delay accounts receivable and the receipt of cash, impacting cash flow and affecting the bottom line. When you think about communications like direct mail, that aim to drive interest and revenue, a 15 percent return rate on mail could really diminish your and/or your customer's efforts not to mention performance. Therefore, address quality is key to making sure that customer communications get to the right people in a timely and accurate manner.
According to the United States Postal Service (USPS), the total cost to forward, return, and in most cases dispose of these pieces exceeded $1.38 billion in 2021. That cost is not just absorbed by the USPS, but instead is passed through to the mailing industry in the form of postage increases, which now continue to occur twice annually in July and January.
Be prepared to offer multi-channel delivery
While the demand for paper mail has steadily declined, businesses continue to use paper mail for many applications. Several sources suggest paper mail is still relevant. A recent survey by Keypoint Intelligences states that roughly 46 percent of respondents, regardless of age or technology adopter type, had no desire to "go paperless." According to IDC's U.S. Outsourced Document Services Benchmark Survey, organizations indicate that 44 percent of current customer communications are printed versus digital mail.
That is only half of the picture. High volume mailers must be prepared for current, and future, customer needs and expectations. Arming your organization with the technology to manage both print and digital communications gives your company access to a wider and growing audience. In addition, investing in intelligent mailing solutions ultimately enables you to offer more competitive pricing, pass along savings to your customer and keep your business thriving.
Consult with a mailing expert
Quadient is driving intelligence and digital processing technology into its traditional mailroom systems, providing customers with value-add capabilities that extend well beyond the simple processing of printed mail. Quadient offers a one-stop production experience for hardware, software, and solutions across all communication channels. Competitive leasing offers allow you to amortize the cost of your investment over time, and avoid significant capital expenditures upfront. Among its many benefits, leasing gives you first access to product upgrades and provides tax savings.
Alain Fairise is Chief Solution Officer, Mail Related Solutions for Quadient, a leader in helping businesses transform their customer experience by creating meaningful connections through digital and physical channels. Fairise is a strategic leader with more than 20 years of experience helping businesses of all sizes enhance customer experience with the latest mail-related and digital communications technology.
Sources:
1) Drivers of Change in Customer Communications Survey, Keypoint Intelligence – 2021
2) USPS UAA Mail Rollup, 2021
3) Annual State of Marketing Communications Consumer Survey, Keypoint Intelligence – 2020
4) IDC U.S Outsourced Document Services Benchmark Survey – 2020