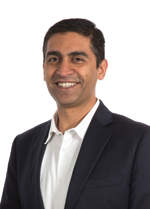 By Rajan Kohli
The digital future is upon us. Almost every aspect of our lives has been made easier thanks to technology, and digital transformations have dramatically changed industries from hospitality to transportation to retail.
Consumers are now accustomed to controlling their own experiences. And with the rise of on-demand services, companies must adapt to retain their customers, keep up with start-ups and remain viable.
So, what exactly is digital transformation?
In the context of a business, it means continuously developing and evolving products, services and experiences for customers that drive increased revenue and profitability. Digital transformation is the effort and journey a company needs to undertake to truly "be digital," not just "do digital". And when done right, this helps enterprises deliver on their brand promise to customers.
Success redefined
Digital disruption has redefined how companies determine success. In the past, success was reflected only by the bottom line, which is a lagging indicator when the world moves so fast. Today, it includes customer experience (CX), customer advocacy, nudging and many other leading indicators of business.
End users expect more, because they can. With online reviews, social media and more, customers can make or break a business with the click of a button. It is up to companies to leverage digital tools to keep up with these heightened expectations and maintain brand loyalty.
CX strategy
In a competitive market, CX is the sum of all interactions a customer has with a business, whether through phone, live chat, email, social media or digital marketing. The best CX strategies deliver high-level, meaningful experiences for customers at each of these touchpoints. This is why companies need to track and understand these interactions at every stage of the customer journey and understand how technology can improve the CX.
We're all familiar with using technology to help collect data from direct and indirect customer interactions while keeping regulations like PIPEDA, Europe's GDPR and California's CCPA in mind. When implemented correctly, the results are a win-win for customers and businesses. Here are some examples:
 Personalized communication. By learning more about the customers (demographics, location, engagement history), companies can better meet their needs and offer them exactly what they want. For a telecommunications company, this could allow it to know exactly whom to contact about a new plan or communicate outages; and
 Channel optimization. One of the benefits of having multiple channels for customers is being able to analyze key data from a variety of sources. This provides companies with a thorough understanding of outreach trends, and it can illuminate why and how customers reach out, and how companies can optimize their channels for a desired behaviour. For example, this may mean targeting online chat options to customers who prefer electronic communication over phone calls.
Mixed results
Implementing new technology can have many benefits on the CX. Yet many Canadian business leaders continue to struggle with digital transformation.
A recent Wipro survey of 1,400 global C-suite leaders, including 200 in Canada, yielded several key findings about executives' digital transformation programs and the barriers to their success. When it came to digitally transforming their businesses only 14% of Canadian business leaders said their efforts were "very successful" while 64% said their initiatives were "somewhat successful."
Improving programs
Executives shared that digital transformations seem overwhelming at first, so it's important to adequately prepare their companies for what comes next. When organizations properly manage expectations, keep senior leaders aligned and ensure they have the right partners working with them, they see success and increased profitability.
One of the best ways to ensure a successful digital transformation is to work with a partner that has expertise in both strategy and implementation. It's never too late to start. 82% of our Canadian survey respondents believe companies that started their digital transformations later than others still have a chance to beat their competitors in the long run.
Those respondents are right. The speed of return of investment (ROI) from digital transformation in Canada is striking. In fact, 18% of Canadian executives saw measurable results of their digital transformation in less than six months, 26% saw it within six to twelve months and 54% said one to three years. Our most promising finding? No one waited longer than three years to see a ROI.
Digital transformation is a process, not a one-time event. Regardless of the industry, it's never too late to innovate, especially when it comes to better serving customers. Customers increasingly drive the business process and they have options to go elsewhere. Executives who embrace the right strategy and digital tools can help ensure those customers continue to choose their company well into the digital future.
Rajan Kohli is president of Wipro Digital, the digital services unit of Wipro.