How streaming provides the experience of television with the pipes of digital
By Michael Brooke
There is no question that streaming is having an immense impact on Canadians from every demographic. Roku's 2023 VOD Evolution study provides marketers with some great insights as to how users are migrating from cable. The study was done in conjunction with Fuse Insights and it clearly shows how Canadians are voting with both their eyeballs and their wallets. While there has been much fanfare over those folks who have cut the cable cord, almost 30 percent of streamers have never used cable.
When it comes to where people watch content, there are three basic choices — TV, desktop/laptop or mobile phone. The study showed that overwhelmingly, people prefer to stream shows through their TV sets. Many Canadians are spending almost five hours per day on their smartphones. Thus it makes sense that "escaping to something else" was the number one reason given for why the TV was their number one choice for viewing.
I had an opportunity to meet with Christina Summers who heads up Roku's advertising division in Canada. Christina explains the main reason for doing the study was that marketers were asking for specific data and insights about the Canadian marketplace. One of the key findings is that 76 percent of Canadians are now streaming. "This is a large percentage of the population which I am sure would surprise a lot of people," she says. "When you break this number down, you have about half watching ad-supported content. A lot of consumers are still sticking with the big guys like Netflix, but they are changing their behaviour."
In response to this change, Roku coined the term FlexiVOD. This reflects how consumers will sign up for a service and then suddenly cancel, downgrade or upgrade. Or these people will simply move from one service to another. "This is a different type of behaviour than what we've seen with cable or satellite services where people generally don't make radical changes," explains Christina.
Roku's been involved with streaming services for quite some time but they recognize it can be a bit of a learning curve for those advertisers new to this type of service. "If you have moved into this space personally, then you tend to be a bit more forward-thinking," says Christina. Roku's message for CMOs looking to explore advertising in the streaming space is straightforward. "You need to go where your audiences are. You want to meet potential customers in an environment where they are open to hearing your message."
The power of this medium is the tradeoff between free content and a minimal amount of advertising. According to their study, 7 out of 10 Canadians find there are just too many TV commercials on cable. TV Streaming services have a relatively light commercial load coming in at roughly half the ad minutes when compared to linear (ie cable or satellite) TV. The fact that there are fewer commercials means whatever is being shown stands out more. Additionally, many streaming spots are 15 seconds in length. This means viewers have less time to do something while the ads are being streamed which in turn keeps them in their seats.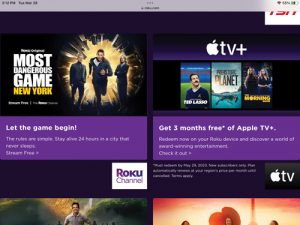 Perhaps one of the most powerful tools behind the proliferation of SmartTVs is the technology called Automatic Content Recognition or ACR. Whenever someone is watching the TV, ACR will identify and gather viewership data. It collects information such as geolocation and viewing history — no matter if this is coming from the web or cable or satellite or even a gaming system. As Christina explains, "ACR allows us to look at the TV holistically so that we can understand how consumers are spending their time from a streaming perspective or what you are watching from a linear perspective."  The Smart TV shares this aggregated viewership data with demand-side platforms. From here, the data can be used to showcase ads to viewers who are most likely to view, engage and convert into customers. By tracking real-time TV audience measurement metrics, marketers can adjust their ad strategy with greater precision and efficiency.
By adding to what is available in the linear world of TV, advertisers can reach potential customers who are streaming. This incremental audience offers huge rewards because it dramatically increases the reach of the marketing message.
One of the key things that Roku is doing to ensure its content is resonating with its audience is something called "behavioural targeting." This means that the company can draw on specific demographic and psychographic information and deliver ads that are relevant. "Consumers understand the value exchange — they are getting free entertainment in exchange for relevant ads.
One very valuable insight that came from the report was the finding that 76 percent of streamers take action when they see an ad running on the platform. "This is a large number and taking action can mean anything from searching for more information, visiting a website or shopping online," says Christine.
As streaming advertising technologies advance through things like richer metadata, automation and AI, there become more opportunities to better identify category entry points that matter to marketers. This brings us to something that Roku calls Moment Marketing and it lets advertisers bring their brands into viewing moments in a natural and timely way. For example, if you happen to be watching a show that features a character who has hurt their back you might just see an ad for pain medication. "With the pipes of digital, we can introduce things to the screen that haven't historically been available," says Christina. "We are trying to bring things into the advertising that encourage the use of QR codes or use the functionality of the remote."
As the economy faces challenges, people are making some difficult decisions when it comes to where to spend their money. Six out of ten streamers said they are worried about their ability to pay bills in the coming years. Almost the same number feel they have less disposable income than before. The study showed that 18 percent of consumers plan to cancel or downgrade their cable or satellite package. As consumers see the benefits of a little less advertising with quality content, it makes sense that companies like Roku could see their numbers increase dramatically over the coming years.