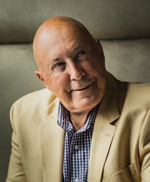 By Frank Palmer
Imagine ordering a pizza for delivery. But not with one set of toppings on the whole pizza, or even half of it. Instead, this pizza order allows you to individualize your toppings by the slice, so everyone gets exactly what they want, all while you pay for just one pizza.
Now, how do you scale this to fulfill millions of pizza orders?
Massive scaling of hyper-customization at warp speed is the key conundrum facing the advertising and marketing industry today. While the technology to meet such pizza orders exists today, our human systems are not yet equipped to handle such lightning-fast processes.
This is why our industry is in chaos. The good news is that we are not alone. Business is no longer "as usual" today. Every industry is in the throes of chaos.
In fact, for most current businesses, culture will be the hardest part of the digital transformation.
Just as automobiles replaced the horse and buggy, and Uber and Lyft are adding stress to the taxi industry, emerging technologies like 5G and artificial intelligence (AI) will only speed up our world even faster.
The rise of collaboration and RPA
One technology to watch for in this landscape is robotic process automation (RPA), which is forecasted by Grand View Research to grow its market size to US$10.7 billion globally by 2027, up from US$1.1 billion just last year (representing a compound annual growth rate of 33.6%).
This powerful technology utilizes software robots that emulate digital data activities performed by humans. With RPA, organizations have the ability to automate workflow and processes that are time consuming and repetitive. Such technologies are enabling us to re-calibrate who we are as a workforce and discard old systems that have remained unchanged over the past century, all so we can invent new ones.
In advertising and marketing, emerging technologies are transmuting our work: evolving it into more of a thing, rather than a place. Consider companies like Communo that are utilizing such technologies to build connections between talent, agencies and clients that maximize human talent potential.
Communo predicted that, in the near future, companies will need to add outside senior talent to their agencies to stay ahead of the game. They built their business around collaboration tools that, when used effectively, support a decentralized workforce without adding expensive labour costs to company overheads.
While collaboration tools are not new, Communo acted on a shift in the ad industry that many others overlooked. While communications disciplines have become increasingly fragmented where specialized talent is needed, clients conversely want lean, budget-friendly teams. Traditional agencies and clients were no longer speaking the same language. Communo set out to solve that.
Emerging technologies are also turning our foundational business processes on its ear. Consider what Tesla has done, romancing the public with its innovation capital, thereby forcing the rest of the industry to scramble in pursuit.
The massive dealer car lots of today are destined to become a concept of yesteryear, with the real estate becoming more valuable than the actual dealership itself. That's because Millennials simply don't shop at car dealerships anymore. Some don't even want to own a car. They do want to own the technology, however.
That is where Tesla wooed its customers: on its unequivocal technological superiority. In the future, dealerships will, like Tesla, have to offer one to two models for the in-person experience. Car buyers will then customize their vehicle online, to be delivered to their front door.
Car shopping will be all about new tech experiences that come with bragging rights.
Taking unclaimed marketing money
Co-op advertising and marketing has set itself up for a similar disruption. Global automotive brands fund a shared marketing budget for their local retailers. This incentivizes retailers to advertise a brand's products to their local customers. The unfortunate fact is that nearly half of the $70 billion that Fortune 500 companies offer to their retail resellers for local marketing goes unclaimed.
Why is this the case? Put simply: dealers know how to sell cars. Manufacturers, on the other hand, know how to make the cars that dealers sell. Their expertise lies in different areas. When both of these parties are thrown into the marketing mix, it takes time to create compelling creative that then has to be approved. When ads finally run, it takes many months for dealers to get their promised incentives.
For the local retailer, if the process to get marketing dollars back is painfully slow, they're likely to pass. These outdated processes often have too many rules and regulations to make the effort worthwhile.
Covault has devised a technology platform that eliminates all of this legwork and associated costs, while enabling real-time operations. It allows dealerships to regionalize marketing communications on templates that are pre-approved for funding and compliant with car manufacturers' brand standards. Accordingly, dealers receive their incentives quickly.
The takeaway for all of us? Marketers today must fully align with technology in order to understand where it is going, because we must get ahead of the game.
Right now, many marketers are swimming against that current. And that's because it's getting harder to predict the state of where technology will be in the next five to 10 years. Many businesses that are here today might not be in business within this timeframe.
The biggest problem for mature companies is teaching old elephants to dance. But dance they must, to be relevant in tomorrow's game.
Frank Palmer is a Canadian entrepreneur/investor, marketing and advertising legend, philanthropist, artist and author of Let's Get Frank.