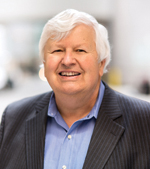 By Doug Norris, PhD
Doug Norris explores the first wave of data released from the 2021 Census showing Canada remains the fastest-growing population amongst G-7 nations
This morning, Statistics Canada released the first data from the 2021 Census, covering the total population and dwelling counts for all geographic areas of the country.
The results show that Canada had a population of 36,991,981 in 2021, up 1.8 million from 2016. This represents a growth of 5.2 percent, compared to a 5.7 percent growth rate of the preceding census period (2011-2016). The drop in national growth was a result of very low growth during the pandemic, which accounted for 14 months of the five-year period.
Overall, about eighty percent of Canada's total growth can be attributed to immigration, and during the pre-pandemic period, 2016-2020 period immigration was particularly high for international students and temporary workers.
The country continues to boast the fastest-growing population amongst G-7 nations much above the United Kingdom (2.9 percent) and the United States (2.6 percent).
Increased growth in the maritime provinces
The provincial pattern of growth differed from the previous census period due to increased immigration levels and shifts in interprovincial migration due to the collapse of the resource sector.
In Alberta, Saskatchewan, Manitoba and Newfoundland and Labrador, population growth was down. On the other hand, the three Maritime provinces experienced their highest growth in 40 years due to immigration and gains in interprovincial migration, mainly from Ontario.
Among the provinces, Prince Edward Island registered the highest growth rate (8 percent), while at the other extreme, Newfoundland and Labrador experienced a small loss of population.
Bar chart showing Canadian population growth rate in each province from 2011-2016 vs. 2016-2021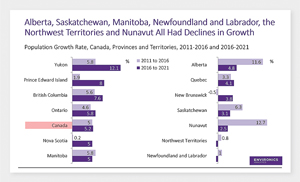 Pictured above: Population growth rates by province/territory for the latest census period (2016-2021).
New census metropolitan areas in British Columbia were among fastest growing metropolitan areas
There were six new census metropolitan areas (100,000 and over) for the most recent census period — Red Deer in Alberta, Kamloops, Nanaimo, and Chilliwack in British Columbia, Fredericton in New Brunswick and Drummondville in Quebec, bringing the total number to 41. The four fastest-growing CMAs were in British Columbia-Kelowna (14 percent), Chilliwack (12.1 percent), Nanaimo (10 percent) and Kamloops (10 percent) followed by London (10 percent), Kitchener-Cambridge-Waterloo (9.9 percent), Oshawa (9.3 percent), and Halifax (9.1 percent).
The largest CMAs grew at more moderate rates: Vancouver (7.3 percent), Toronto (4.6 percent) and Montreal (4.6 percent). Although these areas continued to attract a high number of immigrants, they actually experienced a net outflow of population to other parts of the province. It is likely much of this outflow stems from retirees moving out to smaller towns and rural settings as well as young families moving further away from the big cities in search of more affordable housing.
Areas outside Canada's largest cities see double-digit percentage increases in population counts
Among the smaller urban areas (CAs) with populations between 10,000 and 100,000, the fastest-growing were in what might be termed as resort communities and many were located within 150 km of the largest CMAs. This likely is, in part, a result of retirees moving out of the largest urban areas.
The fastest-growing areas are Squamish (21.8 percent), Wasaga Beach (20.3 percent), Tillsonburg (17.3 percent), Canmore (14.3 percent) and Collingwood (13.8 percent). At the opposite end, 26 of the country's 111 CAs experienced population declines.
Like previous census periods, Toronto, Montreal and Vancouver's metropolitan areas experienced higher growth in their distant suburban areas, more than 30 minutes from downtown. The downtown areas of Montreal (24.2 percent), Calgary (21 percent) and Toronto (16.1 percent) grew rapidly while the downtown area of Vancouver experienced much more modest growth (7.4 percent).
Slow growth for rural Canada but also many declining areas
In 2021, the Census counted 6.6 million Canadians living in rural areas, an increase of only 0.4 percent from 2016. The share of Canadians living in rural areas continued to decline from 18.7 percent in 2016 to 17.8 percent in 2021. However, there were pockets of growth in rural areas, in particular areas just beyond the fringe of large metropolitan areas as well as some recreational areas such as Whistler (19 percent).
Although many parts of urban Canada experienced population growth, some areas of rural and small-town Canada experienced population declines. Of the 293 Census Divisions (counties in some provinces), 83 experienced population declines and close to 40 of these have been in decline for 20 or more years.
Possible implications of the pandemic on population counts
There is no direct evidence of the impact of the pandemic on population numbers. However, it is possible the pandemic resulted in some of the growth in small-town and rural areas as a result of people moving out of the big cities. Also, it is well known that some students returned home to live with parents during the pandemic, some Canadians with cottages in more rural areas may have stayed there for extended periods and others may have temporarily moved to live with relatives.
These movements may have resulted in confusion about where to report their residence at Census time, or in some cases, they may have been missed or double-counted. Other areas where there may have been an increased undercount are in the North and perhaps the core areas of big cities. In previous censuses, such populations were enumerated in person with canvassers going door to door.
The extent of any undercount will not be known until the results of the coverage survey are completed and made available, likely in 2024. Although the pandemic may have had a minor impact on the population counts, overall, early indications are that Statistics Canada conducted a high-quality Census despite having to make many changes due to the pandemic.
Understanding growth patterns is vital to realizing new markets
In general, the good news is that the size of the national consumer base continues to expand. In fact, it seems likely that the national growth rate will further increase in the next few years because of higher immigration targets for the country.
However, growth patterns across Canada's regions are continuing to change. The large urban markets will continue to grow as immigration is heavily concentrated in these areas. While the extent of growth in Alberta will clearly depend on the oil and gas industry, the young Alberta population provides built-in momentum for growth, and immigrants continue to be attracted to the province.
The Maritime provinces have shown a pick-up in growth and these provinces will look to continue attracting and retaining new immigrants. However, while marketers will have opportunities to create fresh relationships with new Canadians, they will need to recognize the changing ethnic mix of their consumers and perhaps develop new marketing strategies recognizing the changing diversity.
The movement of families and retirees away from large cities is likely to continue. At the same time, there is the possibility of more Canadians who can work — at least part-time — from home resulting in increased migration to smaller urban and rural areas. More retirees and workers in these suburban and exurban areas suggest opportunities for businesses to expand.
As more residents are drawn to downtown areas within the large urban markets, tech-enabled solutions such as online grocery services and transportation alternatives like Uber, car-sharing and bicycle-sharing will likely become more popular.
Although most markets will continue to experience growth, an increasing part of rural and small urban Canada will need to plan for population declines and an aging population. Businesses will need to adjust their product offerings, and governments may face challenges in maintaining emergency services, health care and social services like libraries and schools. Can technology address these challenges through online doctor visits, streaming story time presentations at libraries, and blended classroom and online education at the grade school level? This initial wave of census data raises intriguing questions, as will the upcoming releases, no doubt.
Doug Norris, PhD, is Senior Vice President and Chief Demographer at Environics Analytics. www.environicsanalytics.com
2021 Census Release Schedule
These 2021 Census products provide statistical information about the population, age, sex at birth and gender, type of dwelling, families, households and marital status, Canadian military experience, income, language, Indigenous peoples, housing, immigration, place of birth and citizenship, ethnocultural and religious diversity, mobility and migration, education, labour, and commuting as measured in the Census Program.
February 9, 2022
Canada's growing population and where they are living
April 27, 2022
Canada's shifting demographic profile
July 13, 2022
Portrait of Canada's families and households
Canadian Military Experience
Income profile of Canadians
August 17, 2022
Linguistic diversity and use of English and French in Canada
September 21, 2022
First Nations people, Métis and Inuit in Canada
Canada's housing portrait
October 26, 2022
Portrait of citizenship and immigration in Canada
Ethnocultural and religious composition of the population
Mobility and migration
November 30, 2022
Education in Canada
The changing dynamics of the Canadian labour force and how people get to work
Instruction in the official minority language
Additional releases
Following the completion of the seven major releases, there will be further releases (dates to be determined). These releases will highlight additional themes and key findings in the data, and will offer more data tables, updates to data products, and analysis for selected data.
Continuing to add value
As they move through the dissemination of data from the 2021 Census of Population, Statistics Canada will continually add new features that will benefit data users and their experience in working with the data.
The 2016 Census product line saw web data services added to popular products, the Census Profile. In addition to that, StatsCan also added rates and charts features to the Profile, adding to the user experience. For products in the 2021 Census of Population line-up, they'll be including more value-added features and tools for users to benefit from when accessing the new data products.