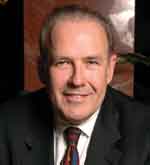 By John Tschohl
Basketball courts were a hotbed of excitement in the United States during March Madness as 68 men's college basketball teams competed for the national championship in seven rounds of a single-elimination tournament. By the time the teams had been whittled down to the Final Four in late March, what made things even more exciting was those teams were underdogs that had overtaken top-seeded teams in historic upsets.
As an employee, you can learn a lot about growing and winning by studying athletes — how they train and how they perform. One of the most important things you will learn from them is that, no matter where you come from or what the odds are, you can rise to the top. What does matter is your commitment to doing whatever it takes to succeed.
What drives athletes to succeed? What steps do they take to achieve their goals? How can you achieve similar success in your job? Moving up in any career — whether it's on a basketball court or in an office — takes dedication, focus, and skill.
If you want to be your company's most valuable player, take these steps:
Don't be afraid to fail. You will learn more from your failures than you will from your successes. To learn from failure, however, you must analyze your shortcomings. Then you must address them and move forward. Self-imposed limitations are the biggest barriers to success. If a football kicker misses three out of five kicks during a game and wants to improve, he analyzes what he did wrong and then continues to practice to do better.
Conduct a self-assessment. Look at yourself and your skill set. Honestly scrutinize your attitude, your work ethic, and your skills. A good self-assessment will allow you to measure your progress and move forward. It will also help you become more proactive with your career and set you apart from other employees.
Seek constructive feedback. Athletic coaches give their players feedback during practices and games. Players might not ask for it but they get it. As an employee who wants to improve your performance, it's critical that you ask for feedback from your superiors who are, in essence, your coaches and from your co-workers. Ask them what you are doing well—and what you need to do better. Use that feedback to develop a plan of action.
Believe in yourself. Success begins in your mind. Nothing will happen until you make it happen. Realize that you can do anything you set your mind to do. Praise yourself. Positive personal affirmations help you develop new beliefs that can eventually become second nature. Pat yourself on the back when you take a step forward—and then take another step forward.
Set goals. Envision what you want to achieve, what you want to become. Your goals should be realistic, specific, and measurable. They should include a time frame that will keep you focused. There's a saying: If you can dream it, you can do it. Create a blueprint for your life — and your career — and set benchmarks so you can track your progress in achieving your goals.
Focus. Don't let life distract you from achieving your goals. Your job affects everything you do, including your personal life, so it's critical that you
are successful.
Be positive and passionate. Don't give up. If you do, you will become stagnant, You will not move ahead, whether that means getting a raise or being promoted. Being positive and passionate includes being a good member of your team, and doing whatever you can to ensure each player is successful.
Never stop learning. If you fail to learn, you fail to grow. Learning can involve taking an online class, reading a book on personal development every month, attending seminars and lectures in your field, and taking advantage of tuition reimbursement opportunities.
Become indispensable. Make a difference; do more than is expected of you. Think outside the box. Execute your dreams. Hard work and creative drive separate extraordinary employees from mediocre ones. Create value for your company, and you will become its most valuable player.
 John Tschohl is the founder and president of the Service Quality Institute—the global leader in customer service—with operations in more than 40 countries. For more information on John Tschohl and the Service Quality Institute, visit www.customer-service.com.