By Michael Brooke
While many Canadian advertising agencies are based in Toronto, Vancouver or Montreal, there is no shortage of excellent work being done outside of these cities. Calgary-based Daughter Creative is a relatively young agency coming in at just over seven years, but this hasn't stopped them from gaining a number of prestigious advertising awards. Most recently, they were included in the Institute of Canadian Agencies Creative Power List. As Daughter Creative Stephanie Kochorek explains, "it was a bit of a 'pinch me' moment. If you told me seven years ago this would be the reality, I don't think I would have believed it. I feel grateful, lucky and proud."
There are a number of critical factors that have resulted in Daughters receiving a number of advertising awards and this most recent level of recognition. Stephanie points firstly to the fact that the agency puts a huge amount of emphasis on team dynamics. They make sure employees feel both challenged and safe. "We give people the space and time to perform at a very high level. At Daughter, we have a saying that states 'none of us is smarter than all of us.'" It is this spirit of teamwork and cooperation that is the foundation of their success. As Stephanie explains "we have incredibly talented people on our team who truly work together in an intimate collaborative environment."
When asked about a memorable campaign, Stephanie recalled the graphics change for a local craft brewery named Annex Ale. The campaign sparked a vast amount of national and international recognition and won four major advertising awards.
Their work with the non-profit Safe Haven also garnered a huge amount of recognition. Daughters produced a 60-second TV spot entitled 'Bedtime Routine' that parodied YouTube influencer videos. The point-of-view of a homeless teen girl giving tips for sleeping on the street went viral and raised a significant amount of donations for Safe Haven.
A few years ago, Daughter was approached by a business amalgamating a number of companies operating under a consortium of different acronyms. Their mission was to tackle the climate crisis by finding ways to make it profitable for businesses to reduce their harmful impact. Daughter didn't just create a truly creative ad campaign, they also came up with the new company's new name — Radicle. The company was nervous about making this leap but Stephanie was confident that it would garner both attention and success. As Stephanie recalls, the client made all these brave choices and created a really distinctive visual identity which was eventually acquired by the Bank of Montreal. "BMO cited the brand as one of the key factors in the purchase," says Stephanie.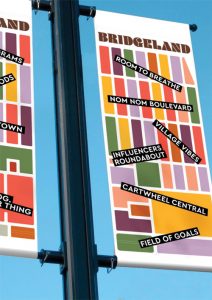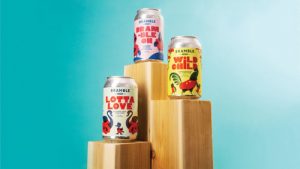 Stephanie started her career in the US with big production budgets and spent a number of years working in Vancouver. When it comes to Calgary she acknowledges that there is amazing talent in the city. Although the city might not see itself as a creative city, this perception is starting to change. "We don't have a stronghold yet," says Stephanie "but there is a burgeoning creative community that is really starting to band together." There is a shared vision of Calgary becoming a creative hub like Minneapolis. "Having creative workers is important and anything that Daughter can do to help establish our city as a creative stronghold is very meaningful to me."
As for the future, Daughter Creative recognizes that marketers are facing challenges — from things like ad budgets to how best to garner attention from consumers. "As a team, we are united in putting out great creative work," says Stephanie. "We are experimenting in the space between a budget of $5,000 and $500,000 and trying to find what works best for clients."