Highlights from the 360 Insights Report
Incentives are critical to driving business outcomes and 90 percent of all respondents describe incentives as key to their business, including maintaining market position and wallet share. In fact, when asked to evaluate incentives as a top priority, 87 percent of all participants rated it among their top 5 priorities.
While incentives are often thought of as a tactical feature of partner engagement, our research suggests it's viewed more strategically for the C-suite — a prodigious 95 percent of VP and C-level stakeholders rate incentives as a top 5 priority. However, its perceived value declined further down the organizational structure, with 85 percent of team managers and leads and 75 percent of senior contributors believing the same. Of course, 75 percent is nothing to sneeze at, but the steady decline in perception suggests some of the recognized value to overall business strategy is being diluted.
Why is the C-suite so bullish about incentives? Fundamentally, it's because incentives deliver against many initiatives key to the success of any brand. Participants from all industries identified competitive differentiation (61 percent overall) and increased mindshare with partners (55 percent overall) as the top benefits.
As we write this report, the economic news is filled with impending layoffs alongside shifts in consumer spending, even amidst inflation concerns. What does this mean for those participating in channel incentives? While we initially feared brands would batten down the hatches, instead our intrepid participants are planning modest budget increases as they invest in indirect channels and wait for the skies to clear. Considering a key benefit of incentives is helping to weather downturns, it shouldn't come as a surprise that savvy brands are turning to incentive programs as an opportunity to grow mindshare and wallet share despite negative economic predictions.
89 percent of companies surveyed will increase the budget for incentives in 2023. To break it down further, 13 percent anticipate an increase of more than 10 percent, 40 percent anticipate a 5-10 percent increase, and 36 percent are looking at a more modest 1% to 5% increase.
If we look at participant segmentation information, the big standout in budget increases comes from Canadian companies, as 64 percent are looking for a 5 percent or more increase in 2023. A more optimistic segment drops to 49 percent and 50 percent respectively for the US and UK.

When sailing through choppy waters, effective navigation requires adaptability to the winds and currents. Likewise, rapidly changing market conditions necessitate adaptability and flexibility for brands. One noticeable trend is a desire to add more stakeholders to incentive programs and promotions. In fact, 99 percent of brands across industries indicated a desire to broaden the reach of incentives, with channel lead generation teams, industry influencers such as designers, product experts, and other professionals, and online influencers like bloggers, vloggers, and podcasters topping the list for incentivization.
The keen interest in influencers reflects increasing attention on ecosystem business models in addition to larger social shifts accelerated by the global pandemic. Increased corporate investments in influencer marketing were initially a staple of B2C sales, but are now making waves in B2B business models.
The need for rapid adaptation is seen as a bridge between high-interest levels (99 percent) and the more meagre implementation of incentive programs as reported by only 20 percent of participants. Of the 79 percent who are hoping to incentivize additional stakeholders, 66 percent are in some stage of planning new programs, while 13 percent struggle with where to start.
Challenges to implementing new incentive programs still abound, although budgeting is not a top concern. Of primary interest to stakeholders independent of industry, role, or country is the lack of models for incentivizing outside of the traditional transactional sales role, with 55 percent citing the lack of models as their top challenge.
These results indicate part of the gap between opportunity and implementation relates directly to difficulties in identifying other stakeholders that contribute to brand sales and success. More than half (58 percent) of participants acknowledged a desire to incentivize stakeholders beyond the sales transaction, and in the end, justifying, prioritizing, and funding those programs proved so difficult that only a fifth of participants said they currently had programs in place.
However, survey participants also emphasized a pragmatic focus on specific channel activities. When asking who companies currently incentivize, half (51 percent) had programs for influencers or advocates, while 42 percent incentivize partner companies. The runaway winner was individuals, with 76 percent of companies providing SPIFFs or other incentives to marketers and engineers. Finally, bundling of accessories, products, or services also accounted for the top answers across all industries.
Surprisingly, the widespread use of individual incentives did not make SPIFFs the predominant incentive type. For Consumer Durables, MDF and BDF funds are the top incentives (62 percent). For Automotive, rebates for individual transactions, and the Technology industry spread incentive funding evenly across four incentive types: MDF/BDF (51 percent), Co-op/promotional allowances (51 percent), SPIFFs (48 percent), and volume rebates (45 percent).
When we queried how incentives are paid, we found direct deposit is still the most popular option (47 percent), followed by account credits (45 percent), invoice and early pay discounts (43 percent, 41 percent), and points (36 percent). A shocking 32 percent of companies still use checks while 31 percent utilize pre-paid cards.
Obviously, the strongest ROI for incentive programs is achieved with high partner engagement which explains why 87 percent of our participants are concerned about unclaimed incentive budgets with 35 percent being very concerned. Research on program utilization is always a bit of a conundrum because the viewpoint of partners matters here as well.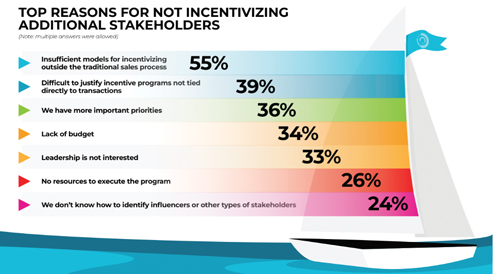 What we do know, however, is that when asked what drives program utilization, our participants believe the strength of a partner relationship is the strongest driver for claiming and redeeming an incentive (60 percent), followed by the timeliness of payments (40 percent), simplicity of program (39 percent). Finally, only a third (33 percent) believe the generosity of incentives to partners accounts for proper utilization.
Although percentages don't significantly vary by incentive type (e.g. volume rebates vs. SPIFFs, etc.), the most surprising data emerged when looking at levels of concern, segmenting by industry and country. Nearly half (48 percent) of the Technology industry participants reported being very concerned compared to only 31 percent for Consumer Durables, and only 26 percent for Automotive. Canadian stakeholders are noticeably less concerned about unclaimed incentive monies, with more than a fourth (28 percent) reporting no concern compared to their US and US counterparts (8 percent and 9 percent respectively).
What insights can we draw from the survey results? Clearly, 2023 will be a year of continued storminess for businesses in all industries. A good ship's captain understands you can't sail directly into a heavy wind and expect to make forward progress.
"Tacking against the headwinds" perfectly encapsulates how we feel about incentives at 360insights, especially considering these survey results. Incentives are powerful tools in good economic conditions, and when faced with persistent headwinds, they become even more powerful. It is only the most experienced sailors with the expertise to effectively leverage the winds who reach their destination, and for experienced business leaders, incentives become a critical tool in helping their companies tack against the macroeconomic storms appearing on the horizon.
It's clear incentives are crucial to helping companies navigate through both good and bad weather, and considering the forecasts ahead for 2023, they will make all the difference between a sunken ship and reaching the far shore.
360insights.com – Make the science of motivation and the management of spend easy so you can build stronger relationships with your partners.