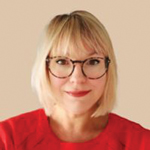 By Amandine Servain
This year has proven to be the year of radical change in marketing. Artificial intelligence (AI) is becoming more integrated. Tight margins mean more trips to the Chief Financial Officer to scrutinize the budget. And now, cookies are being phased out. To top it off, traditional paid channels are getting more expensive and aren't converting as they used to, leaving Chief Marketing Officers wondering where exactly growth will come from this fiscal year and beyond.
So, what's a marketer to do? A year from now, the companies that have hit their KPIs and increased revenue won't be the ones that relied solely on an expensive ad strategy or a complex marketing tech stack as in years past. Instead, the businesses that recognized and invested in the untapped potential of their owned channels — the true hidden gem for customer acquisition and retention — will be the ones that finished ahead of the pack.
While your website is crucial to this equation, it can't do all the heavy lifting alone. By establishing a solid interface between owned and paid channels, creating a more efficient and profitable system, brands can build a performance marketing powerhouse. Embracing these adjustments will position marketers for long-term success.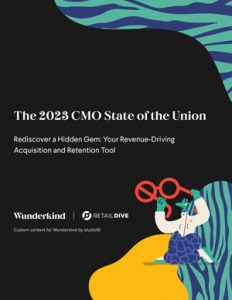 We partnered with Retail Dive to survey 100 senior marketing leaders at retail companies to better understand how marketers are adapting to these major changes and taking advantage of their owned channels. The results — detailed in this report — provide a glimpse into how these marketing leaders are prioritizing significant shifts, along with insights on the most momentous struggles they face and how they plan to approach performance marketing moving forward.
Inefficient Tech Stacks
Tech stacks serve as the lifeblood of companies, forming the bedrock upon which marketing teams build strategies and deploy tactics. Without an efficient tech stack, brands risk financial drain and losing the ability to be agile and adaptive. We asked our survey respondents how satisfied they were with their tech stacks, and the overwhelming sentiment was that current tech stacks are falling short.
So what part of their tech stack specifically isn't meeting their standards? Respondents said their customer data platforms (63 percent), customer relationship management software (51 percent), marketing automation platforms (45 percent) and content management systems (43 percent) were the top four elements of their tech stack that weren't driving results.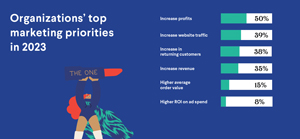 When used effectively, customer data platforms (CDPs) can be a huge asset to a marketing organization by centralizing several data points and providing control and ownership over that data to trigger personalization. But there also tends to be inflated expectations of what CDPs are actually capable of. In fact, 63 percent of our survey respondents were dissatisfied with their CDP. So what can we glean from this?
We don't see CDPs going anywhere or being replaced by something new, as they are still valuable tools in your arsenal. Rather, we predict marketers will pair CDPs with other platforms to enhance their personalization capabilities and compensate for the areas where CDPs fall short. For example, CDPs are great at gathering information about your customers; however, they cannot recognize unidentified visitors. When a company also utilizes an identity solution as part of its infrastructure, they can recognize anonymous site visitors and in turn, make their CDP more intelligent and intuitive.
Ineffective ad campaigns
In the past, digital ads were the most reliable method to gain targeted customers and revenue growth. But they simply don't have the same effect they once did. More than half (59 percent) of the respondents from our survey said digital advertising was "not improving customer knowledge," and 50 percent agreed that ads were "not increasing brand loyalty." To top it off, 44 percent acknowledged that ads weren't increasing sales.
"I think everybody can agree that efficiency is hard to gain these days, and the cost of digital rent has increased over time," said Ben Harris, Chief Commercial Officer at rag & bone. "One of the age-old challenges is capturing the right people at the right time with your marketing and ensuring it's as efficient as possible. It's all about making sure you know your customer and putting forward content that's reflective of your brand and of what your customer values from your brand."
So why is this happening?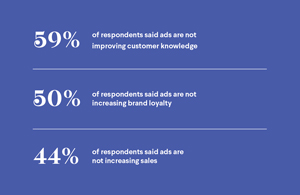 Struggles building the right team
Seventy-two percent of respondents reported that employee knowledge and experience had a large or moderate effect on their companies' paid ad strategies. This highlights the importance of building a team with the proper knowledge and skills to keep up with advancements in marketing (for example, team members who have AI knowledge and experience).
"During COVID-19, everybody invested a ton of money, time and resources into building their technology, especially in the fashion industry, because brick-and-mortar came grinding to a halt," Harris said. "I think the lesson is you need the right talent, skill and experience. You can have the best technology in the world, and you can spend a fortune on it, but if you don't have a good organization, a good team, and the right skill and experience within your team, all the technology is useless."
Oftentimes brands invest in technology and then don't utilize it to its full potential. Having the organizational horsepower and the right talent within your organization allows you to fully unlock the value of the technology. But you don't have to do it alone. Technology providers that act as a true partner with white glove services can take the pressure off internal teams. That, combined with the power of artificial intelligence and machine learning to make the right decisions, will set your brand up for long-term success.
Poor user experience
Another reason for less effective ads is that they can be incredibly intrusive and can ruin a user's experience, limiting their engagement and costing your brand. Incorporating Adtech solutions such as WunderKIND Ads, which deliver a user-first ad experience by not interrupting the reader's content consumption, solves this problem. Once users disengage, ads are delivered in a non-intrusive, impactful way which ultimately drives higher attention quality, more site actions and increased returns.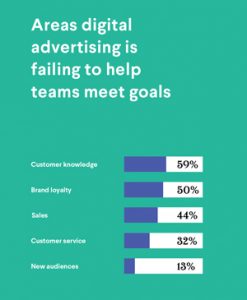 Deprecation of cookies
Another factor that will have huge ramifications on how marketers operate is the looming deprecation of cookies. Digital ad strategies have long relied on the information provided by cookies, so finding alternative data sources is now essential. We asked our respondents how they were preparing for this seismic change, and 68 percent said they were shifting to new retargeting technology platforms.
In this ever-changing digital landscape, search engines and social platforms are constantly evolving, so having to rely on third-party cookies always keeps companies on the defensive. This transition away from cookies is actually a fantastic opportunity to shift to an offensive approach by taking control of your data collection and focusing more heavily on first-party data from your website. Doing this will provide you with rich, robust data that will ultimately drive better customer engagement and ensure better accuracy, quality and security of your data.
Shifting consumer expectations
Nearly three in five marketing executives (57 percent) identified shifting consumer expectations as the most significant challenge for their companies' marketing leadership. Despite today's consumers continuing to spend at a high rate, the key lies in persuading them to spend with your company rather than with the competition, which is only a click away.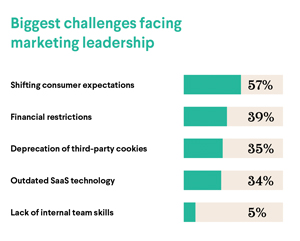 As consumer preferences rapidly evolve, marketers must adapt their strategies and focus on gaining a deep understanding of their target audience. Businesses can establish meaningful connections with both existing and new customers by gathering insights and customizing messaging to meet customers' needs. This customer-centric approach allows marketers to navigate the ever-changing landscape of consumer expectations confidently.
There's no doubt that today's customers have become increasingly fickle. So how do you keep your customers loyal and avoid slowdowns in your business? It's all in the approach you take to learning about and caring about your customers.
"All we think about is, 'Who are they? What do they want?'" Harris said. "And then ensuring when we go out into the world with content and messaging, we reflect that back to new, prospective customers and people who have shopped with us before. Using that mentality, you can eliminate much of the noise in the consumer space."
Tightening budgets
A climate of layoffs and general uncertainty in the market has led many companies to tighten their budgets and focus on profitability rather than growth for the first time in years. Finance departments are exerting more control over the marketing budget and want to ensure that the money spent brings back a good ROI. In fact, 40 percent of marketing leaders surveyed said they are having more meetings than last year with their finance departments. As the cost of ads increases and their effectiveness decreases, marketers are finding it harder to justify the budget needed to run successful ad campaigns.
65 percent of our respondents cite "not enough budget" as having a medium or large effect on their paid ad strategy. To justify their spending, marketing leaders are now responsible for educating their C-suite (especially their CFO) on the importance of increasing their budget to optimize performance and ROI.
"Scaling is important, but scaling marketing spend just to scale marketing spend doesn't work," Harris said. "You have to scale the things that are really working. Anybody driving a marketing strategy needs to get into the weeds of what's performing and not performing within each channel at a more detailed level than before."
During these uncertain financial times, performance marketing can provide a dependable solution for driving revenue. When marketers leverage data, analytics, and a strong understanding of consumer behavior, they can tailor their performance marketing to ensure they receive the greatest return and make the most out of their tightening budget. Optimizing spend through performance marketing allows marketers to appease their financial teams while also hitting their marketing goals.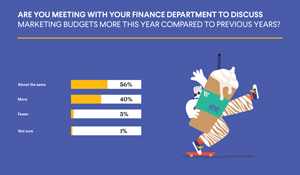 Performance marketing and brand marketing are the way forward
Now that we have outlined all the challenges, let's explore the optimal next steps. Brand marketing typically receives a significant portion of the overall marketing budget, with 26 percent of marketing executives indicating it as their top investment for 2023. Meanwhile, 23 percent of executives are prioritizing performance marketing, reflecting the growing interest in this area.
Encouragingly, 44 percent of respondents expect to increase their budget specifically for performance marketing, making it the leading area for anticipated budget growth among the options we asked about. These findings highlight the rising support from CMOs and CFOs for allocating more resources toward performance marketing, driven by its potential for measurable results.
Businesses can't rely on just brand or performance marketing; they need both to achieve success. And while they are different practices, when used together they share the same goal: to create individual, tailored experiences that resonate with their target audiences while improving customer loyalty and driving business growth to beat the competition.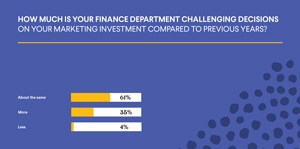 Understanding your customer
To truly understand your customer, it's essential to recognize your site visitors and offer them experiences relevant to their wants and needs. While many marketers said they were taking full advantage of the data available from their websites, there was a large discrepancy in perception versus reality. Seventy-three percent of respondents from our survey said they could identify 50 percent to 74.9 percent of their website visitors, which may sound like a lot, but in reality, that means there's still a wide gap to close for most CMOs and an opportunity to learn even more about who is on their website.
"You have to really understand who your customer is and what they want, and be crystal clear about what that means in terms of your acquisition strategy and how you're going to reflect the needs, desires and values of your core customer base," Harris said. "The efficacy comes down to content, messaging and knowing really well who your audience is."
While basic analytic tools can help determine a website visitor's location, how long they stay on your website and what pages they look at, more detail is needed for successful brand and performance campaigns. So how can marketers harness the full potential of data from their websites? Use a platform that empowers brands to leverage their first-party data and gives marketers a competitive edge.
Over the past decade, Wunderkind has developed the foremost identity network in the industry, tailored specifically for permission-based channels. Wunderkind offers a comprehensive, privacy-compliant performance marketing solution for eCommerce brands, delivering unparalleled revenue generation by leveraging first-party data on a large scale. Wunderkind's network harnesses actionable consumer insights, AI and machine learning to monetize your traffic and significantly scale your performance marketing.
"Wunderkind is instrumental in helping us identify the traffic coming to our website," Harris said. "Our approach has been to improve efficiency within our owned channels as much as we can because it's increasingly hard to identify traffic, and that has an effect on retargeting activities.
"Capturing the organic traffic that is coming to your site is the most efficient thing you can do in terms of ROI. We obsess over that at rag & bone because our owned channels are our most valuable channels."
Leveraging first-party data through owned channels allows brands to capture, convert and retain customers more efficiently so your brand can confidently tackle these challenges and set your business up for success in the years to come.
Amindine Servain is CMO of Wunderkind, an agency based in New York with offices in Montreal, Quebec.  Wunderkind drives guaranteed revenue for brands, publishers, and advertisers.